Rich Internet Application Development using Adobe Flex and Actionscript
NextXAP's Adobe Services Practice offers Strategic Consulting, Rapid Prototyping, Software Development and Implementation Services for building Adobe based Online applications thereby offering dramatic cost savings to our clients and a more positive and productive experience for their customers, constituents, partners, and employees.
With our Adobe Software Development Services for building Rich Internet Applications (RIA) using Adobe Flex and Implementation Services for Adobe LiveCycle ES we help our customers:
Build more engaging experiences that scale from paper forms to rich and interactive online applications
Reduce development time with intuitive and integrated developer resources
Protect sensitive information to inspire confidence on both ends of a transaction
Extend their enterprise with new applications that reach inside and outside the firewall
Build end-to-end business processes that create the perfect mix of print and electronic communications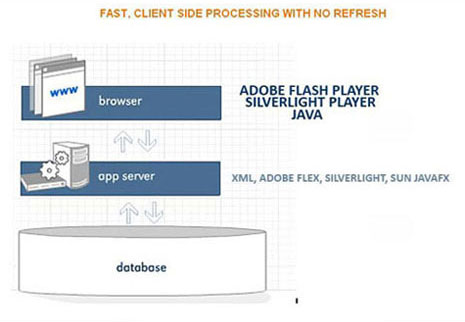 About Adobe Flex Technology
Adobe Flex is a collection of technologies based on Adobe Flash and used in developing cross platform Rich Internet Applications. Being a rather new technology, Flex already offers a significant number of benefits for both programmers and users. The popularity of Flex development can also be attributed to Flex Builder, an integrated development environment that allows applications to run with the same speed and quality and leave Flex presentation layer unchanged while processing larger amounts of data than other technologies. Flex also supports a high level of client-server interactivity, which makes it an ideal RIA framework for enterprise applications.
On the developer side, Adobe Flex provides all the means, such as rich editors, a versatile debugger, and in-built objects, to make development more productive. The diverse modes of presenting data along with the strong development model combining ActionScript and MXML allow any Flex developer to deliver quality Web 2.0 develoment in less time.
Our developers have an extensive experience in Flex + Java, Flex + PHP, and Flex + .NET and know how to put the powerful features that Flex IDE provides to use. We deliver rich user experience, quicker response time, and exceptionally high performance to each of our clients. Our Flex developers use ActionScript and work with Adobe Flex Builder to create quality Adobe AIR Web and Adobe Flash desktop applications.
Flex Development Services
Our dedicated team of Flex developers offers Adobe Flex development services that include:
Rich Internet Application development (RIA)
Flex multimedia development
Adobe AIR development
Adobe Flex E-commerce
ActionScript development
Rich media banners development
Flex Web sites development
Streaming video application development
Flex UI of any complexity
Adobe Flash application development
We also use Flex 3 SDK framework in our applications to speed up the process of creating unique Flex user interface for each of our clients' Flex website. With our proficiency and extensive experience in developing complex Flex applications for clients throughout the world, we deliver quality Flex development and provide our customers with sustainable and cost-effective solutions.
Need to Accelerate Adobe Flex Development
The team of Adobe Flex developers at NextXAP offers Adobe Flex and AIR development services that unveil all the benefits of Flex applications. We develop RIAs, Flex Web sites, rich media banners, and applications supporting live streaming media and/or Flash streaming video with the UI in Flex of any complexity. Using Flex 3 SDK framework, NextXAP aims at speeding up the process of creating unique Flex user interface for each of our clients' Web site.
Benefits to your Company
Different engagement models to suit our clients' needs, ranging from fixed price projects, time and material projects, to allocating dedicated Flex development teams.
Extensive array of reporting options and alternatives; can work both onsite and offshore, depending on your current needs.
Expertise in Flex + Java, Flex + PHP, and Flex + .NET development, together with the powerful features that Flex IDE provides, allow us to ensure each of our clients with rich user experience, quicker response time, and exceptionally high performance.
Profound experience in Adobe Flex development (including delivering rich media applications using Adobe AIR or ActionScript) for clients throughout the world.
Lower costs by hiring expert Flex developers who reside in North America, which also eliminates typical outsourcing barriers related to cultural proximity. (You can save up to 30% of your current Flex development budget!)
Mature software development life-cycle and QA procedures; a proven, phased, scalable, and carefully documented approach to accelerate product delivery.
Unique performance assessment system that allows motivating team members for constant improvement, tracking their individual progress, and preventing programmers from spending billable hours ineffectively.
Adobe LiveCycle Enterprise Suite
We utilize Adobe Flex and Adobe LiveCycle ES (Enterprise Suite) software as an integrated server solution that blends data capture, information assurance, document output, process management, and content services to help you create and deliver rich and engaging applications that reduce paperwork, accelerate decision-making, and help ensure regulatory compliance
Our Technical Expertise on Adobe Technologies include
Adobe Flex - FlexBuilder, ActionScript, MXML (Design, Software Development and Deploy)
Adobe Flex SDK (for Software Development of Rich Internet Applications i.e. RIA)
Adobe Livecycle Designer (Front End Development)
Adobe Document Services (Back end Development)
Adobe Blaze Data Services (Integration with Enterprise Backend)